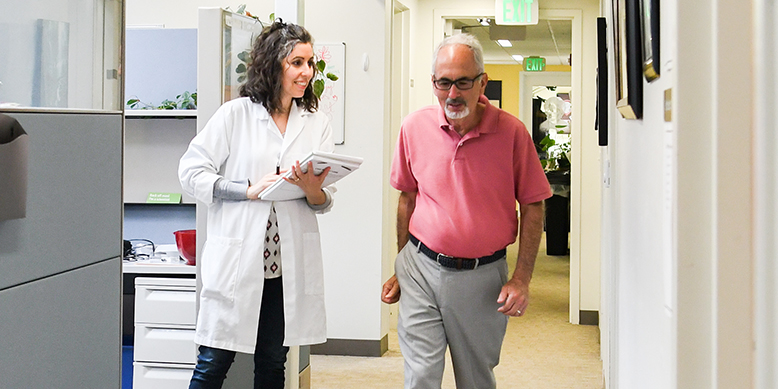 The mission of the integrative medicine research program is to train research professionals to advance the science of natural medicine.
The Master of Science in Integrative Medicine Research (MSIMR) degree brings together faculty and researchers from various integrative medicine fields to work with students in a collaborative project-based environment. As the use of integrative medicine continues to increase, so does the need to develop the evidence base for its use. Clinical, laboratory and observational research methods are emphasized in the MSIMR program, as they are essential to provide a solid foundation for natural therapies. In close partnerships with skilled mentors, students in this program conduct novel health and medical research on studies including herbal medicine, nutrition, mind-body therapies, and behavioral and environmental effects on health.
Required courses provide a foundation in clinical and laboratory research, public health, and courses in epidemiology, clinical research design, biostatistics and bioethics. Students may choose from a variety of elective courses based on their research interests. Students also gain practical experience by attending research conferences, completing a research project, writing papers, and defending a thesis. The program prepares students for many research and public health careers. Students who are preparing for PhD programs, MD programs, or postdoctoral research positions at natural or conventional medical institutions also gain valuable foundational knowledge through this program. Medical students who concurrently pursue this degree go on to careers as physician-researchers or specialize in a clinical area.
Program Outcomes and Competencies
Students in the MSIMR program will be prepared to meet the following program outcomes and competencies:
Develop research skills expertise

Summarize the current understanding of a research topic, especially by searching databases to identify relevant literature.
Critically appraise various types of literature, including intervention, observation, systematic review, and case studies.
Describe and apply all aspects of study design, including articulating appropriate questions, generating hypotheses, choosing appropriate design and methods, selecting outcomes, and designing data management and analytic strategies.
Effectively communicate methods, data and results of research in written, oral and visual formats for varied audiences.

Gain a working knowledge of the basic aspects of integrative medicine and health

Describe integrative medicine modalities and their clinical application.
Explain processes by which social, behavioral, economic and policy factors, including nutritional behaviors and practices, influence individual and community health.
Describe etiology, progression and treatment of some common diseases/conditions.
Demonstrate expert knowledge concerning at least one question of interest in the field of integrative health.

Scientific integrity: Be a steward of ethical research practice

Demonstrate an understanding of ethical issues in human subjects research, including the need for inclusion and diversity in research study planning, oversight and participation.
Describe the purpose and the process of IRB approval and oversight of research.
Demonstrate safe, HIPAA-compliant data management strategies.

Demonstrate professional growth

Identify key integrative medicine researchers in the field as well as potential collaborators and mentors.
Articulate an area of research emphasis and communicate short- and long-term career goals.
Participate in and present at local/national/international research meetings and conferences.
Stay abreast of current findings and develop processes to facilitate life-long learning.
Elective Courses
Research students are required to complete 8 elective credits for the purpose of enhancing the breadth of their education. In addition to research electives, students may also take graduate-level elective courses through the College of Naturopathic Medicine, College of Classical Chinese Medicine, and School of Undergraduate and Graduate Studies (if course prerequisites are met).
Students enrolled in concurrent programs are required to complete the number of elective credit hours of the program that has the greater number of electives between the two programs.