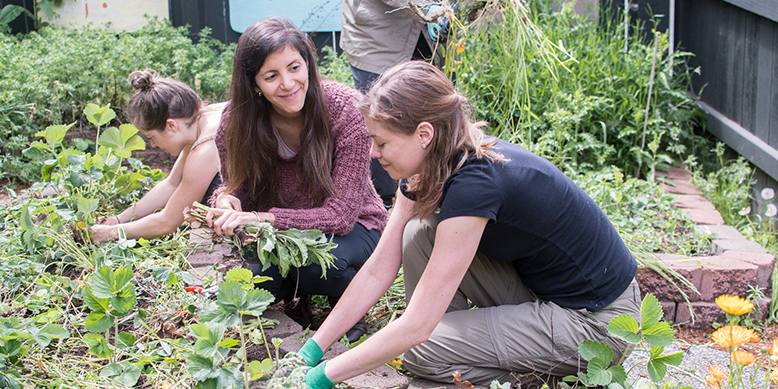 The Bachelor of Science in Nutrition (BScN) program features four core threads: nutrition, natural sciences, social sciences and critical thinking. The nutrition thread focuses on individual and community nutrition; human nutritional requirements; the link between diet and disease; food systems that impact the nutrition of individuals and communities; and food security and nutritional epidemiology.
Students take traditional pre-health/pre-med classes in the natural sciences thread, such as anatomy and physiology with dissection lab, organic chemistry, biochemistry and genetics. These provide the scientific foundation for an understanding of the human body and the basic principles of health and disease. Throughout this sequence, students also learn the foundations of research, and scientific and professional communication.
The social sciences theme focuses on the interpersonal and professional growth of the student. There is a strong focus on the development of cultural competency skills, ethical decision-making, writing, self-reflection and self-management.
An important role in clinical and scientific decision-making is the ability to critically evaluate information. Woven throughout the BScN program is a critical thinking thread, in which students learn to interpret data and make an informed assessment using logic and evidence. Specific courses in evidence-based practice and critical thinking further the development of these essential skills.
Students can choose from a variety of electives to gain deeper knowledge in a topic of interest. Select classes from NUNM's graduate degree programs may also be available for elective credit.
Program Outcomes
Nutrition
Articulate concepts and demonstrate skills related to human nutrition. Appraise the relationship between nutrition, human biochemistry, and health and wellness. Apply these concepts to the improvement of nutritional status for individuals, families and communities.
Ethics, Responsibility and Social Maturity
Make reasoned decisions based on an ethical framework and a respect for diversity. Exhibit cultural humility and maturity. Display accountability for your choices, behaviors and actions. Demonstrate mature social skills required in the healing professions, such as compassion and understanding.
Communication and Teamwork
Practice professional communication and work productively, both independently and as part of a team. Effectively communicate using verbal, nonverbal and written skills.
Research and Information Literacy
Demonstrate comprehension and skill with research methods and scientific inquiry. Use appropriate information technologies to conduct and communicate about research topics and questions, and to access, evaluate and manage information to meet academic, personal and professional needs.
Career Preparation
Develop a career plan based on personal and professional strengths. Demonstrate career readiness skills, such as the ability to apply classroom learning to real world scenarios. Implement critical thinking skills to make decisions in new situations.
Elective Courses
Nutrition students are required to complete five elective credits for the purpose of rounding out their education. Undergraduate students may take any elective courses through the School of Undergraduate Studies, and cross-listed courses in graduate programs, as long as course prerequisites are met. In addition, core courses in other undergraduate programs can be taken for elective credit.