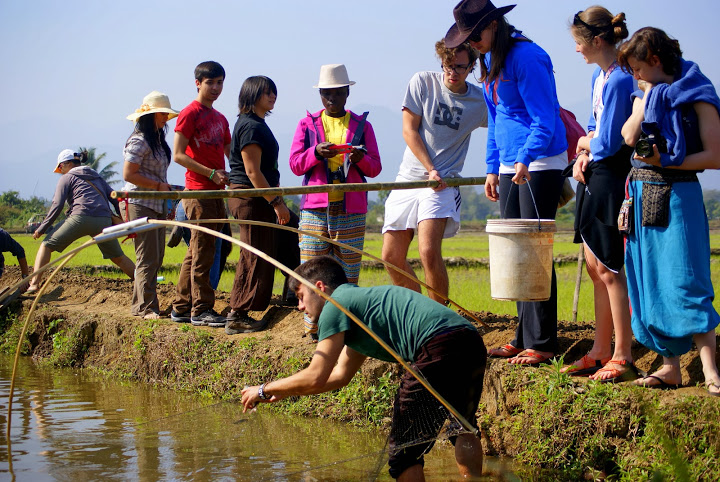 The mission of both the Master of Arts in Community Organizing and Social Activism (COSA), and the Master of Arts in International Development and Service (IDS) is to engage students, educators, and grassroots organizations around the world in volunteer service to promote equitable relationships, social justice, sustainable change, and a commitment to our shared humanity.
There is a clear and pressing need to engage with our world in an ACTIVE way. The world needs young leaders to fight for social justice and equal rights. COSA and IDS are the only study abroad programs working to create sustainable change through advocacy!
The IPSL Global Institute at NUNM degrees teach you the practical skills to be an active agent of change and social justice. You will study the many international efforts that have effected social change historically, learn from these efforts, and use them to develop a personal ethic of service, advocacy and civic engagement. IPSL will teach you the skills of community organizing and will empower you to create sustainable change in your own communities.
Both degrees consist of academic course work providing a necessary body of knowledge that will enrich student's understanding of local conditions and their historical and political roots. Academic course work may be completed online or, when travel is permissible, on-ground in country. All courses are taught by scholars and scholar-practitioners who are from our partner locations. Courses are interdisciplinary in nature and serve to enrich knowledge in a variety of fields, making these programs extremely flexible and tailored to your goals. In addition, students work and engage in advocacy research with organizations that are based in IPSL program destinations around the world, serving in various capacities, both direct and indirect, to assist those organizations in meeting their goals. Both course work and volunteer service are geared for the student who is actively seeking to change the world for the better.
Either degree can be completed in four terms of approximately 12 weeks each, for a total time of approximately 13 months including breaks. Students may choose to travel internationally for one, two, or three of the terms and may choose to travel to a different country in each of the travel terms or spend multiple terms in one country. Students may currently choose locations in Africa, Latin America, Asia, or Europe as destinations during their program. Program fees vary depending on the number of terms the student chooses to travel.
Both degree programs are similar in that they have two required introductory courses and one re-entry course, allowing students to create a personalized curriculum that best suits their goals and flexibility to choose to travel one, two or three terms. The IDS program has a requirement of one course focusing on development in each of the four terms. Students completing the COSA degree choose volunteer service opportunities that emphasize social activism, whereas IDS students work to assist organizations that foster community development.
Program Outcomes and Competencies
Upon graduation from the COSA or IDS program, students will be prepared to meet the following program outcomes and competencies:
Become an ethical and competent leader of an international and/or intercultural service organization.

Describe the basis for ethical decision-making.
Develop competency in leading organizations through service.
Explore and summarize the roles of NGOs in different societies.

Develop networks and partnerships that will facilitate the establishment of healthy communities.

Increase the number and quality of professional interactions.
Gain knowledge of the leaders in establishing healthy communities globally.
Be able to foster meaningful partnerships with individuals and organizations that will assist in establishing healthy communities.

Master techniques of engagement that empower individuals to make positive changes in their communities.

Gain necessary skills to navigate intercultural conflict successfully.
Be able to recruit and develop volunteers for NGOs.
Become an active listener.

Gain the skills necessary to conduct ethical and culturally sensitive research that empowers community-based organizations.

Develop insight into the human research subject ethical review process in an international context.
Describe what constitutes human subject research and how it might be viewed differently in different cultures.
Use human subject research to assist organizations in reaching their missions.

The ability to understand, communicate with, and effectively interact with people across cultures.

Become aware of one's own world.
Develop a positive attitude toward cultural differences.
Gain knowledge of different cultural practices and world views.
Program Organization
COSA and IDS students are required to complete 49.5 quarter credits successfully in order to graduate. Two online intensive courses, USA 601 - History and Ethics of International Development and Service , and USA 602 - Social Research Methods  are required of all students in the first term. Students are then guided by program staff in the selection of course work that best matches the student's personal goals and that will best assist the student in meeting program outcomes and competencies. Courses are available either in an online format or, if traveling to a country, taught locally in a face-to-face setting by local scholars and scholar-practitioners. Because students have great flexibility in producing a tailored curriculum, the number of credits taken per term by a student may vary. During each travel term, students are required to complete a XXX500 course based in the country they are visiting (e.g., COL 500  if they travel to Colombia). At the end of their course work, students are required to complete an online course, USA 698 - Study Abroad Re-Entry , in which they complete a capstone project and reflect on their international experiences to formulate a plan for how they will move forward in their careers. Students in the IDS program are required to complete a course related to community development each term in the program. The total program thus has 9 credits of preparation and re-entry, and 40.5 credits of courses that are focused on global issues related to community organizing and social activism.  
In addition to the academic requirements, COSA and IDS students must also complete at least 10-15 hours of community service each week they are enrolled in the terms of the program. Typically this service-learning component is carried out in organizations or agencies affiliated with the student's area of interest. This service-learning is essential to achieve the program outcomes and competencies, which is a critical component of the capstone project that the student will complete. 
Elective Courses
Within each term, students can choose from a variety of courses. In addition, students may choose to take up to an additional 4.5 credits of course work beyond the required 49.5 credits without additional cost. This course must be selected from the courses open to COSA and IDS students (i.e., courses with prefixes of COL, GRE, GUA, SAF and VIE).
Program Tracks
The COSA and IDS programs offer three tracks, each of which is composed of four terms of approximately 12 weeks each. The 49.5-credit curriculum can be accomplished by completing one term online and three terms abroad, two terms online and two terms abroad, or three terms online and one term abroad. Each program requires the completion of a capstone project that the student selects and completes under the guidance of a faculty mentor. 
Curriculum
Because there is a great deal of flexibility in the choice of courses and which terms are completed either online or abroad, the curriculum layouts described here may vary. Required courses for both degrees are indicated by an asterisk. Those development-specific courses required only of IDS students are indicated by a double asterisk. (Note: The following courses are considered development-specific: XXX500, COL501, COL502, COL503, GRE501, GRE504, GUA501, GUA502, SAF501, VIE501, VIE502, VIE506.)